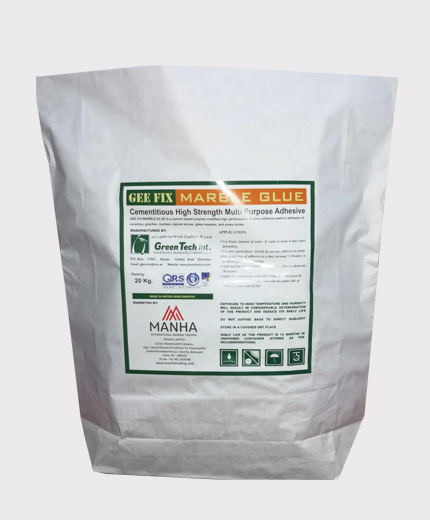 GEE FIX MARBLE GLUE

Cementitious High Strength Multi-Purpose Adhesive
DESCRIPTION
GEE FIX MARBLE GLUE is a cement based polymer modified high performance flexible adhesive used in adhesion of ceramics, granites, marbles, natural stones, glass mosaics, and press bricks.
TYPICAL USES:
* Recommended for thick and thin bed floor & wall applications.
* Permanent fixing of marbles & stones for heavy traffic and where the fast hardening is required.
* Recommended for agglomerate tiles (Subject to moisture sensitive values).
* Recommended for reconstituted stone.
* Recommended for internal and external. Permanent wet areas.
Advantages:
* Polymer rich setting mortar with high bond strength even heavy marbles.
* Recommended for dry and wet areas marble/stone installations.
* Recommended for hot water utility areas
* Used for all types of tiles including ceramic, mosaic, granites, slates, special stones, terracotta, vitrified and quarry tiles.
* Bonds with all common construction materials/substrates, such as concrete, plaster, renders, wood, gypsum board, acoustic underlay, cork and rubber sheets, mineral board and plywood.
* Specially formulated for extreme climatic conditions.
SUITABLE SUBSTRATES:
Concrete/masonry, Gypsum wallboard, Concrete block, MDF (interior/dry areas), Gypsum plaster, Exterior glue plywood, Cement terrazzo, properly prepared vinyl tile, Cement backer boards, Cement mortar beds, Plastic laminate, Non-water soluble cut-back adhesive, Cement terrazzo, Existing ceramic tile and stone.
SURFACE PREPARATION:
All surfaces must be structurally sound, dry, clean and free from movement. Clean oil, grease, wax and other contaminants. For external/internal applications wet the substrate prior to the installations. Do not ignore the wetting process; it will affect the adhesion properties. Do not allow pond water prior to application of the adhesive.
MIXING:
Mixing ratio is 20 kg of GEE FIX MARBLE GLUE to approximately 4 to 4.5 litres of water. For thick bed application reduce the water ratio.
Add GEE FIX MARBLE GLUE premixed powder to water, mix continuously until a lump-free, creamy mixture is formed
APPLICATION:
* Use Exact Amount of water. If water is more it may cause de-bonding.
* Use slow speed mixer. Strictly do not mix adhesive by hand.
* Mix a full bag of adhesive at a time (around 7-10 mins) to avoid irregularities in mixing.
* After mixing wait 3 minutes to settle the adhesive then mix 30 seconds.
* Apply the adhesive on wall with 3-5mm v notch trowel & apply a thin coat (less than 1 mm with the plane side of trowel) on back side of Tile. Consistency is achieved.
* The choice of trowel should be governed by the size of the tiles, depth of knobs, grooves or ridges on the back of the tile and the evenness of the substrate.
* Do not spread more than 1m2 of adhesive. For tiles with deep grooves or ridges, such as slate or lugged backed tiles, the adhesive should be butter coated onto the back of the tiles / marbles in addition to being notched trowelled onto the substrate.
* Recommended to use two-part adhesive system for highly moisture sensitive tiles. Additional precautions to be taken prior to installations of such tiles.
* Recommended to use recommended primer for installation of marble / stone, tiles on plywood, gypsum, silicate board substrates. The primer application enhances the surface bond strength.
* Grouting application should be carried out at least 24 hours after the completion of the installation.
Order Now